Mayham on the Merrimack
Mayhem on the Merrimack took place on a June 9, 2001. There were teams from all over New England, and it promised to be a lot fun. During the practice rounds 151 auto-balanced first try, and practiced being a ramp rat. We started the day with high hopes. But due to our slow speed no teams let us balance two goals, we ended up most of the day playing ramp rat, or just sitting in the end zone while others attempted to balance. It was a fun day all around, and due to no fault of low rider we once again ended up seeded a very disappointing 19 out of 23. However other teams realized that it wasn't our fault that we seeded so low and we were the second pick in the alliance selections. We worked with the number two seed 105, the number six seed 166 and team 348, team 140. We were knocked out in the first round by the alliance that eventually took second. It was a very fun day and we look forward to seeing everyone at battle cry.
BATTLECRY AT WPI
The 151 team was really looking forward to battlecry, and well we weren't disappointed. After finally figuring out the rules (Took us a little while) we began to really have fun; after winning our first match 6 to 5, we set the high score in our second working with the great team of Chaos. The high score stood till the third to last match. After a lot of fun, and some hard fought matches we ended the day seeded a Very good 12th out of 30. The top 8 seeds picked their respective partners and we were left on the sidelines. Our last hope was the random selection, we ended up paired with team 209, and team 237. Our first match was against team 125, and 176. 209 went in first with 237, and won the first match. In the second one the other alliance won. Then team 209 showed gracious professionalism and for the good of the team, they put team 151 in and let us Auto-balance one goal while 237 ran interference. We won, then we took on the Aztechs, Chaos alliance. After putting up a good fight the first round and actually being announced the winner, it was reversed and went to the other team. Then in the second match after some pushing and shoving 151 was able to get both goals, unfortunately Chaos, and Aztechs got control of both the bridges so we were kind of stuck. Congratulations to the Champs 175, 121, 177. I know pretty much all of 151 team that went really enjoyed themselves, and we thank WPI for hosting such a great competition.
RIVERRAGE
Four words, "MOST EXCITING COMPETITION EVER" Now my opinion might be biased but I will tell my reasons. The day started off with only 15 team's competiting, and most people thought it would be A boring day. Well all the robots that were there were highly competitive, and for most teams This was their last competition of the 2001 season, so the desire to win, and have fun were both running very high. With only three robots on the field at a time the strategy suddenly became more important, and surprising to us 151 became a balancer in almost every match. In a match with (501, and 69) we achieved a score of well over 300 points. Which was all year high for us, with us balancing. Also on a crazy idea, we decided that in a match with WPI, and the Dirty Birds that we would try attempting tipping the goal ontop of us; so that we could get more big balls on top. The tipping worked well and we were able to get it balanced but we were only able to get one big ball on top, but it was still a really cool and funny thing to see. We ended the day seeded 9th out of 15. We were the pick of the top seeded alliance (121, 190). We beat the 4th alliance to advance to the finals for the first time all year. The alliance we were going against was Central (131), Keene (213), and Quincy (69). In the first 2 matches We tied and the other alliance won by about 6 seconds(the first tiebreaker was time). In the second set of matches we tied yet again only this time we won by about 4 seconds. And in the final set of matches we were ablt to get one more black ball in our goal and won the competition by ONE black ball. Everyone in the stands was on the edge of their seats the whole time, The Quincy alliance was highly competitive and we thank them for some great final matches. Team 151 hopes to see everyone back next year at RiverRage 6, and wishes everyone luck for the 2002 season.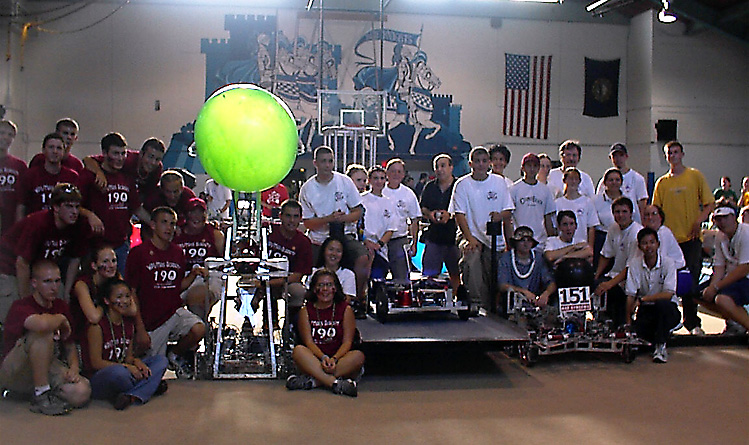 Seen here are the RiverRage 5 Champs, A player from 151 is holding the black ball that won it for us.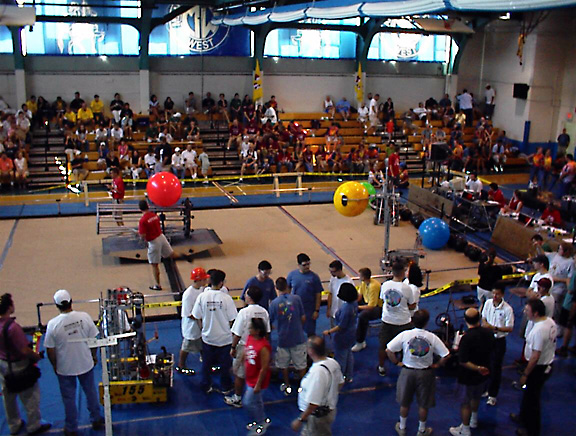 Although a judge is standing in the way, you can see how the goal is balanced ontop of 151, and that there is a big ball ontop. Although not a high scoring round, it helped us win a judges award.
Pictures taken by Kyle Fenton of Team 121